Our Mission
Chloe Cole Pet Couture is a luxury pet boutique created for pet parents and their fur babies. Our mission is to enrich the lives of fur babies and their families by offering personalized shopping experiences from pet-obsessed, pet experts.
Our Story
My name is Mae and I am the owner of Chloe Cole Pet Couture. The boutique is named after my two cats Chloe and Cole. They ruled the house like royalty and I wanted to treat them royally. Chloe walks around acting like a queen and I realized, I love that! I want to be able to treat her like the royalty she is.
I found that there were not any pet boutiques that fully catered to their needs and I did not like everything I found. I did not like that the products were not made well and all looked the same. The pet products were not made for each life stage of cats and dogs, and they also were not made for the lifestyle of the pampered cats and dogs. I love buying Chloe and Cole cat products; therefore, I was inspired to open my boutique.
Around that time, our family had grown when we rescued two bottle-fed kittens . Unfortunately, we also received the sad news that Cole had a rapidly progressive heart-disease. This inspired me to return to school for veterinary technology.  I also adopted my first dog, Snoopy-Otie. 
Animals are my passion and I am a former, registered veterinary technician. I believe that the best pet products should be safe; therefore, I made it a mission to only carry that in my new boutique.
I love finding fun pet products like dog birthday cakes, innovative cat toys, and a variety of designer pet furniture for my cats and dog. I want to provide your family with the best pet products for your fur babies too. I know that if I love my babies this much, then I know that there are other pet parents like you that love their babies too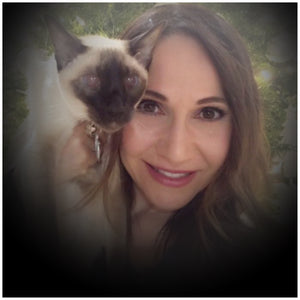 At Chloe Cole, we cater to those who, like us, believe that our pets aren't just pets — they are our fur babies, our family, our life! Chloe Cole exists for the pet-obsessed, and like us, fully embrace being a "crazy cat lady" or "dog parent."

Because we care so deeply for our fur babies, we pride ourselves on providing personalized shopping services and only the very best products for our customers so they can trust their fur baby is in good hands. We stand behind every brand at Chloe Cole—not only do we see and try the products that we select, but we also meet the designers behind the brand.

We value building long-lasting relationships so we can provide you and your fur babies the best personalized experience possible every time you shop with us. We promise to give you and your fur babies the lifestyle you aspire to share with them, and a lifetime of memories with the right toys, treats, luxurious fashion and accessories.
The Originals
Chloe
Chloe is the boss of the house. She likes the finer things in life, loves to sit in a sunny window and nap. At 20, she is ready to retire, sleeps a lot, and still has a lot to say. She is involved in everything and always at my side. Chloe and Cole are the inspiration behind Chloe Cole Pet Couture. Chloe passed away peacefully on 08/27/21. 
12/25/00 - 08/27/21
Martin
Martin was the gentlest and sweetest cat I ever met. As one of my bottle babies, he spent his days following me around, napping near me or on my desk. He loved comfy cat beds, catnip kickers and feather sticks. He is Sebastian's brother. Forever in my heart. 
07/28/03 - 10/24/18
Sebastian
Sebastian loves everyone. He protects the kitties, watches over them, grooms them, snuggles and comforts them, especially in their final days. He and his brother, Martin, were bottle babies. They were inseparable for 15 years. He crossed rainbow bridge at 17 1/2 . 
07/28/03 - 01/04/21
Sunshine Ray
Sunshine Ray is full of purrs and love. Just like a clear blue sky lit up by sun rays wakes us, Sunshine wakes us up with his blue eyes, loud purrs and kisses. He loves to play with bouncy balls and catnip mice. He is bff's with Chadwick. He is also a cancer survivor since 2012. 
05/15/06 - 04/24/20
Snoopy
Snoopy is an active 14 year-old boy that loves his treats and chew toys. He also loves his stuffed toys aka"babies". He carries them around from room to room. He hates baths, avoids sprinklers and walks around puddles. He enjoys being in pictures and napping like a cat.
Chadwick
Chadwick, age 9, abused by teens, was left in the park on a hot day. Young kids at the park knocked on my door and asked for help. Of course, I rescued him. At six months he still had kitten energy. He helped Sunshine get better after Sunshine's cancer. He found his way into my heart.
Edward Scissorhands, Niklaus, & Freya
Meet Edward, our fur baby, born March 10, 2019 After losing Chloe, Lily & Fiona, we also adopted Niklaus and Freya. They were bff's to Chadwick and Edward as soon as they met.
Special Rescues